Memories of the Trump Show
After four gripping and appalling seasons, how can we go back to regularly-scheduled programming?
Say what you will about Donald Trump, the 45th President of the United States, but he got us to watch American Government like we've never watched American Government before. We tuned in daily to Seasons 1-4 of the 45th Presidency on Twitter, Facebook, YouTube, CNN, MSNBC, and FoxNews. We bought subscriptions to newspapers, for Christ's sake. We pulled a struggling medium out of its death spiral because we needed to follow every moment of this new Trump reality TV extravaganza. The stakes were high. Kids were in cages! (Kids are still in cages.) Lives hung in the balance. Democracy hung in the balance. It was a crazy ride.
The Cast
As Season 1 took off in 2017, even the most disinterested American could not avoid knowing the characters involved, including many minor players and roles that were repeatedly recast…which, let's be honest, was most of them.
The Press Secretary role was a revolving door, from belligerent Sean Spicer to dour matron Sarah Huckabee-Sanders, to Barbie-Lies-A-Lot Kayleigh McEnany. They each brought their own special je-ne-sais deceit to the role.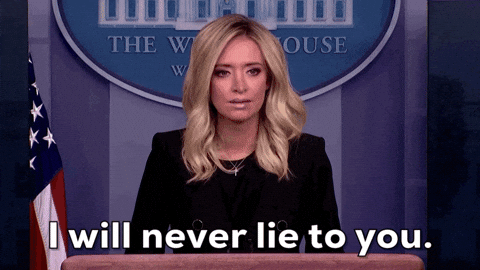 The Chiefs of Staff were also plentiful. Reince Preibus was the most interestingly-named character of the whole administration. Sadly, that's the most compelling element of his existence. Trump tapped General John Kelly to take on the role next, and he had a flair for dramatic tension. Unable to keep even his military-trained emotions inside, Kelly often looked like he was on the verge of having a stroke. By comparison, Mick Mulvaney and Mark Meadows were boring, interchangeable white guys.
With only two Attorneys General, both Jeff Sessions and Bill Barr brought depth to their characters. Sessions played the role as a deceitful, self-loathing elf, while Barr brought a bloviated walrus energy to the AG office. Similarly there were only two Secretaries of State. Former Exxon-Mobil CEO Rex Tillerson will be best remembered for definitely calling the President "undisciplined," and probably calling him a moron. Oh, and for Trump firing him. Mike Pompeo followed the script and made fewer waves by making friends with despots and alienating long-term allies, as requested.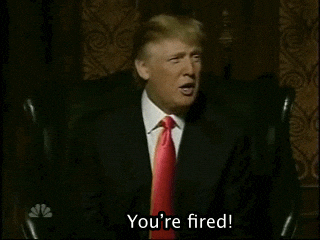 The Presidential advisors were particularly colorful, with the Voldemort-like Stephen Miller and the Jabba the Hutt-like human pustule, Steve Bannon. And let's not forget the lawyers! Most notable were wax vampire Giuliani, who melted on camera in Season 4, and Michael Cohen: the guy who is so desperate for validation he will commit many crimes for you.
The First Lady's casting felt like a nod to Soviet-era Bond villains: beautiful, but icy and devious. I enjoyed spotting her stunt doubles in the moments when the First Lady was called upon to perform superhuman acts like smiling and holding Trump's hand without vomiting.
A small-yet-colorful character, political consultant Roger Stone looked like he'd taken a wrong turn off the set of a Batman film. All four seasons of this administration felt like the writers were stealing characters from every corner of Hollywood mythology and making them fascism-flavored. It was a bit over-the-top sometimes, but it sure kept everyone watching.
Trump himself managed to be the ultimate supervillain and the antihero at the same time, depending on which station you chose to watch the show. That's a feat in itself, so hats off to him.
Season Overviews
Season 1 was packed with strong dramatic action like the Muslim ban, missile strikes in Syria and Afghanistan, firing the head of the FBI, withdrawing from the Paris Climate Agreement, calling white supremacists "very fine people," befriending tyrants, neglecting Puerto Rico after Hurricane Maria, and ending DACA.
Season 2 was more of a courtroom drama, starting with Special Counsel Robert Mueller indicting 13 Russian nationals for tampering with the 2016 US elections. Michael Cohen's complicity in the Stormy Daniels pay-off came to light, and he was eventually sentenced to three years in prison on the same day that Paul Manafort was convicted. We all watched, riveted, during the excruciating Brett Kavanaugh Hearing episode, and then every woman and many men in America replayed their own sexual assaults both in our minds and on social media. The #MeToo Movement surged again, and Democrats won back the House. By the time Trump pulled troops out of Syria we were numb to it all. It was too much to track.
Season 3 began with the Mueller Report coming out, heavily redacted and disappointing. The Democrats screamed impeachment. Nancy Pelosi refused to do it. Then in September she changed her mind, but put off the trial until Season 4. The border wall, the Green New Deal, immigration policy; TWENTY-SIX Democratic candidates in the primary race for President. There was a lot going on, and the American public disengaged a bit because events were drawn out and unsatisfying, and few things got resolved.
And then came the epic Season 4. It started off with the Impeachment plotline, the first of two, it turned out. The Senate called no witnesses. It was probably the most disappointing part of all of the 45th Presidency, having almost no entertainment value whatsoever. Then Mother Nature stepped in and turned the drama up to 11. In January, she lit Australia on fire, and we were too distracted to see the global pandemic coming. By March the whole country had shut down. Wearing a mask became politically divisive and many people labeled the coronavirus a hoax, even while thousands died every day.
Then we watched the murder of George Floyd, and the country metaphorically caught fire. Learning belatedly about Breonna Taylor and Elijah McClain only stoked the tension. When the entire West Coast literally burst into flames the summer plot lines cycled between that, protests, and Covid-19, leaving the twelve hurricanes that made landfall on the US coastline a minor side story for all but those caught in the deluges.
The final few episodes of Season 4 felt like they dragged on forever. The Election, the Counting of Ballots, the disputes, the lawsuits. Trump and his fans fought like hell to stay on the air, while all signs pointed to him being cancelled. And then the Insurrection happened, the mother of all season finales, and the whole frikkin' world tuned in. MAGA bashed through the doors of Congress, and ratings went through the roof.
Now what? 
So many things happened during the 45th Presidency that we can't recall even a fraction of them. My main dramaturgical criticism of the past four seasons is that they overwhelmed the audience. The only thing we maybe didn't get enough of was Anthony Scaramucci. I suspect he would have brought some much-needed comic relief and a Jersey Shore flavor to a show that became more tragic by the day. He would have upstaged the star, though, and that wouldn't do.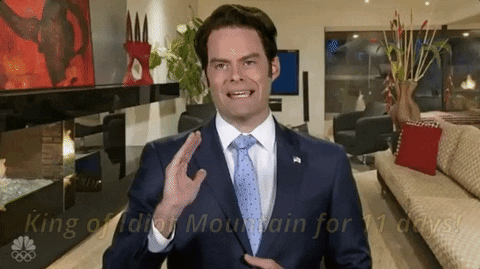 Now we sit at the dawn of a new Season of America, stunned and exhausted by the sustained effort to remain alert and vigilant, still shaken by the violence of last season's ending, and our attention has already lagged. Prior to the Impeachment 2 episode, ratings were down 45 percent on CNN, nearly 20 percent on MSNBC, but only five percent on FOX….
In some ways, the only thing still keeping us engaged is the pandemic, a plot twist even Trump didn't see coming. Well, OK, he saw it coming before a lot of us, and decided not to tell us about it.
Here's what I predict about the current season of America: It's not going to be as exciting on the day-to-day. We won't be on the edge of our seats, doom-scrolling through Twitter looking for lies and catastrophe. The Disappointing Impeachment 2 episode will demoralize viewers. There will still be hurricanes, forest fires, or disastrous winter storms. We may even hear news of other countries again. And if Trump and his fans have their way, he'll be back for another four seasons in 2024. You never know, fan campaigns have worked in the past, and Trump has a very enthusiastic and dedicated following. SAG-AFTRA kicking him out of their union may have limited his options, but they can't stop him from trying to recast himself in the role of President.