The Crazy Ride Of 'Black Monday'
Black Monday just wrapped its ten-episode run this week on Showtime.  I'll try to keep this spoiler-free in the hopes that this review will get some people to watch it.  At the very least, it deserves a second season.  When Showtime first aired the series, they billed it as  "A Wall Street Comedy from Don Cheadle and Happy Endings' David Caspe."  That was enough to get me to watch the pilot, directed by Seth Rogen and Evan Goldberg.
The show opens with the chaos of  the actual Black Monday, complete with a body falling straight into a Lamborghini Limousine ("Limbo").  The rest of the series leads up to that day and leaves the audience constantly rethinking the mystery of the corpse's identity.  But don't get me wrong, this isn't Westworld.  It's a comedy,  and a really funny one at that. Cheadle hasn't been this good in a comedy since he played Snoopy Miller in Out of Sight. And if you never caught Happy Endings, click this link immediately.
Upon first tuning in, I wondered how they'd even make a series about the Wall Street crash of 1987. The pilot didn't really provide answers, but it did provide era-specific references, tons of blow, and all sorts of testosterone-fueled dialogue amongst the traders. It even had a Rocky III-style robot named Kyle as the butler for Cheadle's "Maurice Monroe."   Yes, Kyle and Mo do lines together.
But Regina Hall wins MVP of the pilot, and really the entire series.  Seriously, she's amazing in it.  Like the series itself, she makes her mark with brazen insanity.  Just check out the gif of her working out in a leotard and headband while smoking a butt.  You can't help but laugh. But as the series unfolds, Hall's "Dawn Darcy" proves to have a lot more depth.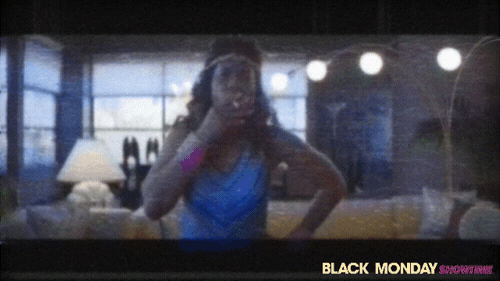 Dawn holds the distinction of being the only woman in Mo's Jammer Group, even though she takes zero shit from the guys.  As a matter of fact, she dishes it out while sitting through a "Me Too" type sexual harassment seminar, or pointing out the ridiculousness of 1980s TV trends. "There's two Black midgets playing rich white people's kids," she says.  Dawn also navigates her own stagnant marriage to Kadeem Harrison (a very 1980s match), and calls out her mom as a pretentious Huxtable-wannabe.
Mo and Dawn attempt to run a grift on Andrew Rannells' "Blair," engaged to designer jean heiress Tiffany Georgina, played brilliantly by Casey Wilson.  Not since Happy Endings, where Wilson met and eventually married David Caspe, has she been this funny.  She was great on the Hulu "Hotwives" parody shows, actually.  If you saw either the Orlando or Las Vegas editions, you'll recognize two of the girls in Black Monday as FBI agents who try to bust the scam through Paul Scheer's character, Keith.
Rannells, openly gay in real life, does a great job transforming into a true '80s dick throughout the season, while Scheer's character tries to hide his homosexuality from the other traders in "The Jammer Group."  If that's not enough, Ken Marino plays twins.  My only complaint was that the "Lehman Brothers" only appeared in a handful of episodes.  At least we get plenty of Marino in Comedy Central's The Other Two.
While only Cheadle's character gets a backstory, with roots in the Black Power movement, Rannells takes center stage.  Mo corrupts him into a life of strippers and narcotics. He uncovers a Lebowski-like fake kidnapping orchestrated by his fiancée's parents. He performs a choreographed first dance at what becomes a "sham wedding. And he steals every scene.  It's appropriate that he and Regina Hall come together as the season progresses.
As the series heads towards the crash (the opening credits of each episode remind you of how many days are left after the 80s "Showtime Tonight" promo rolls), you wonder how it's all going to come together.  I won't ruin the surprise, other than to mention the appearance of a wheelchair-bound Bruce Dern as Rod "The Jammer" Jaminski.  There hasn't been an asshole on wheels like this since The Big Lebowski.  Cheadle was originally supposed to portray Jammer back when the project was called Ball Street.  Thankfully, the show and the character, evolved.
Showtime hasn't yet announced a second season.  The show is currently in a holding pattern.  Right now, Black Monday waits for the results of its own "LaGuardia Spread," when you borrow to put everything on a longshot stock and then pack a bag to head to the airport.  If you're like Horatio Sanz's character Wayne, you get drunk and tell off your entire family while you wait to see how it all shakes out.  Then you call 92.3 FM's  K-Rock and ask to speak directly to Howard Stern.  It's as amazing as it sounds, but don't just take my word.  Watch this show.