In Season 3 of 'The Crown', the Royal Family Has a Midlife Crisis
When we return to the rarefied world of the acclaimed Netflix series The Crown, it's 1964, and change is afoot in Britain. Winston Churchill is dying, and a new Labour prime minister, Harold Wilson, a man of the people and self-described "ruffian," has been elected to lead the country out of its economic malaise. Even the stamps are changing, reflecting Queen Elizabeth II's maturing profile. Now a mother of four and self-described "old bat," Her Majesty doesn't find the new design particularly thrilling, but accepts the aging process as inevitable. "One just has to get on with it," she says. It could be her royal motto.
Throughout the third season of The Crown, which takes us up to the Silver Jubilee celebrations of 1977, the changes keep coming and the Queen keeps getting on with it, going through the motions of monarchy in a series of groovy floral dresses, sensible headscarves, and ridiculous hats.
The Crown's changing cast underscores the seismic shifts in 1960s and 70s society. Newly-minted Oscar winner Olivia Colman and Outlander baddie Tobias Menzies seamlessly step into the regal roles vacated by their younger counterparts, Claire Foy and Matt Smith. Colman captures Foy's (or, rather, Elizabeth's) mannerisms and clipped tones, her earnestness, and her magisterial way of throwing shade at her sister and brother-in-law, her mother, and a parade of Prime Ministers. Menzies nails Prince Philip's louche lisp, his pettiness, and the menace seething just below the surface of his practiced charm. At one point, he accuses a group of priests of being "a bunch of navel-gazing underachievers infecting one another with gaseous doom." While Elizabeth manages to connect with her people (if not her children) despite her emotional constipation, Philip's energetic efforts to modernize and humanize the royal family continue to backfire spectacularly.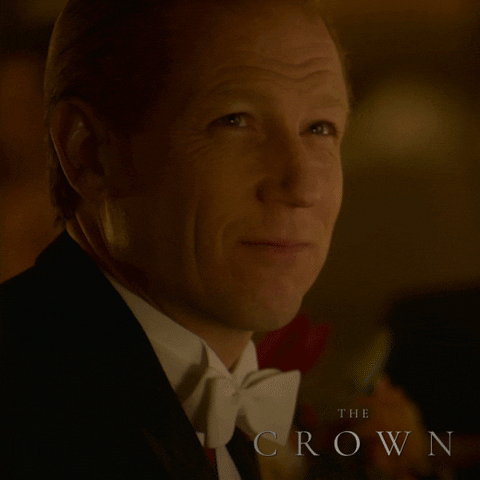 Restless Second Fiddles
In this third of six planned seasons, the central characters are entering midlife crisis territory. Philip copes with his by whacking polo mallets and flying planes recklessly. While other, younger men are walking on the moon, the only place he's boldly going is Yorkshire, where he makes yet another dull speech in front of a textile mill in the pouring rain. But it's hard to feel sorry for Philip when he goes on TV to whine about champagne problems like maybe having to sell the yacht and give up polo if his wife doesn't get a taxpayer-funded cost-of-living raise. "We're country people, really," he tells one of his many servants, without a smidgen of irony.
Princess Margaret (Helena Bonham Carter) copes with her own midlife crisis by terrifying her servants while wearing fabulous caftans and hairpieces. She and husband "Tony" Armstrong-Jones (Ben Daniels, a poor substitute for the deliciously pervy Matthew Goode) drink and bicker like Liz and Dick in their prime. When Tony complains that it's not easy "being second fiddle to a Pygmy princess," Margaret shoots back: "Don't talk to me about being second fiddle!"
On a tour of America, Margaret puts her second-fiddle experience to good use, charming President Lyndon B. Johnson (Clancy Brown) by trashing his predecessor, JFK. Later that night at the White House, she challenges LBJ to a drinking contest, swaps dirty limericks, and belts out show tunes—to her sister's horror, but Great Britain's great benefit. Margaret is sadly absent from most of the rest of the series until she reappears at the end, her marriage in tatters. Helena Bonham Carter attacks the plum part with gusto, but doesn't have the pathos of her predecessor, Vanessa Kirby; at this stage in her life, Margaret has fully become the charismatic monster that lurked under Kirby's more sympathetic portrayal.
Margaret always believed she was the one born to be a queen, and Elizabeth privately agreed. As she tells her friend and fellow horseflesh aficionado Lord Porchester, a.k.a. "Porchy" (John Hollingworth), she'd rather be a horse breeder than Queen. "I actually think it's what I was born to do, until the other thing came along," she admits. Porchy replies: "You manage to make it look like the other thing is the only thing you were ever meant to do."
Charles the Not-So-Great
If the unflappable Queen has a midlife crisis, it's this brief moment of contemplating "the unlived life and how much happier it might have made me." Meanwhile, the cancer-stricken Duke of Windsor (Derek Jacobi, stepping in for the indelible Alex Jennings) is having an end-of-life crisis. He famously chose the "unlived life" over the crown, but he's now worrying (belatedly) about his legacy, and passing on his dubious life lessons to the current heir, Prince Charles (Josh O'Connor).
We don't see a lot of the Queen's kids in The Crown, which feels accurate, but they make an impression when they do appear, as when Colman shoves a shy Edward forward to shake hands with visiting dignitary Neil Armstrong. Princess Anne (Erin Doherty) is a wonderfully salty and sexy teenager, whose close relationship with Charles provides some of the series' best moments. While Anne plays with the surprisingly hot Andrew Parker-Bowles (Andrew Buchan, who costarred with Colman as the grieving dad in Broadchurch), wild child Camilla Shand (Emerald Fennell), plays "stupid, naive Charles," breaking his heart by marrying Parker-Bowles.
The production is as lavishly appointed as ever, painstakingly recreating an era where people were increasingly filming the royals in real life. Set pieces include a fateful polo match, a horse race, Prince Charles' solemn investiture at Carnarvon Castle, and a harrowing recreation of the Aberfan disaster and its aftermath. At one point, we segue from a palace tarted up with helium balloons for a birthday party to the genuine pageantry of Churchill's state funeral.
Not all of the new season's changes stick the landing. Martin Phipps' ominous soundtrack sounds like the Crown lifted it from Stranger Things. They also continue to horribly miscast the role of the Queen Mum, this time with Marion Bailey instead of Victoria Hamilton. And there's no reason why the Crown shouldn't have allowed some of the standout supporting actors from Season 2, like Goode or Jennings, to reprise their roles with the help of a little old-age makeup. Charles Dance makes a formidable Lord Mountbatten, but looks and acts nothing like the young(ish) Mountbatten, Greg Wise. In any case, The Crown would have been much better served casting him as the next Prince Philip.
Debuting on a weekend when Prince Andrew dished indiscreetly to the tabloids and rumors of savage sibling rivalry continue to dog the royal family, The Crown's modern-day resonance is as strong as its attention to historical detail. It intercuts the Duke of Windsor's death with Charles' romance with Camilla, making it explicit that Charles, like the Duke, is prepared to give up everything for the (divorced) woman he loves. The Aberfan disaster raises comparisons to Princess Diana's funeral, when public opinion forced the Queen to show emotion. When Princess Margaret and her young lover get papped on the beach, it instantly recalls Fergie's toe-sucking scandal.
"Ritual and mystery—it keeps us hidden in plain sight," Colman says. "It's not there to keep us apart, it's there to keep us alive." As The Crown makes clear, however, craven political ends can manipulate even ritual and mystery, and even a Queen can fall victim to emotional and ideological blackmail. There's more than one way to lose your head.