Mrs. Maisel Hits The Road
Season 3 Almost Flirts With Being Something Substantial
The third season of The Marvelous Mrs. Maisel finds Midge (Rachel Brosnahan) and Susie (Alex Borstein) on tour with Shy Baldwin (Leroy McClain) and company. While this gets us away from the lavish everyday life Midge lives (and sets up an explanation for why we won't be seeing her interact with her children this season) it also allows her to live an equally lavish life on the road while she begins to flirt with the idea of leaving the unrealistic world in which the show seems stuck. However, series creator Amy Sherman-Palladino never quite commits to these very intriguing turns, because the end goal is always to make sure that things work out for Midge in the end. It's more of the same: wide-eyed optimism and low-stakes drama.
As someone who's watched Sherman-Palladino's Gilmore Girls repeatedly, I enjoy her Nick at Nite aesthetic, sharp and quick dialogue, and women-centered work. However, the traits that have served her well in the past have created two different shows within Mrs. Maisel. The delightful one that won us over in its first season is at war with the show that almost, but not quite, attempts to address some of the most pointed critiques from fans and reviewers.
The latter show is fighting to belong to this decade in which Sherman-Palladino conceived it. Although clumsily at times, it addresses the lack of representation found in the first two seasons, briefly getting into the logistics of being of a mother while also chasing your bliss. We even begin to a glimpse of just how strained Midge's familial relationships really are. This second show deserves much more attention and care than this season gave.
We Almost Had it All
Midge going on tour with an African-American singer in the early 1960s, backed by a team almost exclusively made up of African-Americans and/or women, should cause quite a bit of tension as they make their way to Florida during the Jim Crow era. Shy Baldwin stays in a segregated area of Orlando, while Midge gets to stay in a weird utopia with synchronized swim numbers. But we never talk about it.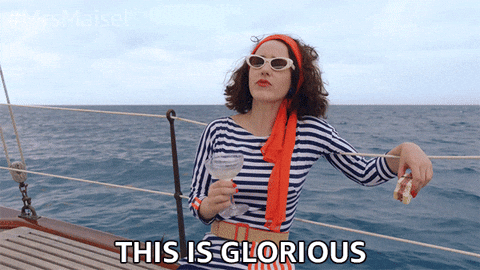 At one point Midge goes looking for Shy because he misses a gig and she thinks something must be wrong. Midge goes over to the part of town where segregation allows Shy to stay and finds him beaten up. This results in Shy coming out to her and the audience thinking this is the beginning of a meaningful friendship. It looks like the show is about to finally have a non-hetero character that it doesn't hide and/or make the butt of a lot of jokes regarding gender and sexuality. However, Shy's sexuality ends up making its way into one of Midge's routines, and when she has to deal with the fallout we're supposed to feel bad for her.
This new life on the road should reveal some of the seedier aspects of show business in the 1960's. But the show sidesteps the easier (and more believable) addiction angles and sets up Susie with a sudden gambling addiction that results in her rolling away all of the money they've made from this adventure. To fix things, Susie burns down her mother's house for the insurance money and enlists the help of Midge's manchild of an ex-husband with handling any future money for Midge. It finds an immediate fix for a serious problem before anyone experiences a full character arc.
Perhaps the best example of this almost palpable yearning to step outside of the show's comfort zone comes at the end of the random long evening Midge spends with friend and fellow comedian Lenny Bruce (Luke Kirby). This is obviously an elaborate date between two friends who clearly have feelings for each other. It ends with the two of them standing outside Lenny's motel room staring at the bed and talking around the moment. Midge begins to walk away wearing Lenny's jacket but turns back around to take it off and hand it back to him before making her way back to the fancy hotel where she's staying. On top of this highly frustrating moment, I'm left to wonder how the show's writers will handle the real-life demise of Lenny Bruce (he overdosed in 1966), or if they'll avoid it in favor of keeping things picturesque.
What's So Marvelous?
As many issues as I have with Mrs. Maisel, I refer to it as my problematic favorite and keep coming back to it. Aside from the long list of impressive guest stars and the smart dialogue, I live for the costumes, performances, and relationship development (or deterioration) between characters. One of my favorite moments this season came during the finale. Midge and her mother, Rose (Marin Hinkle), are finally having this argument that's been brewing all season and that almost reaches early Gilmore Girl proportions.
A few stray hairs fall out of place as Midge confronts her mother for butting into her life and for refusing to see her do standup, among a long list of other injuries. For once, Midge is standing up for something and not looking for an easy joke to use an escape hatch. We also sympathize with her, as opposed to the other times in the series where she comes across as a bit selfish. For once Mrs. Maisel is human. I hope to see more of this version of her when I tune in for season 4.