Believe it or Not, Some of Our Critics Liked 'Watchmen'
Here at Book and Film Globe, we watch TV. Actually, that's all anyone does anywhere. But they pay us to do it, so our opinions are worth more than yours. Some of our best writers have agreed to participate in this critics panel about the Best Shows of 2019. They know a good opportunity when it presents itself.
Not only is this not a roundtable, but our critics have never met one another. I've barely met half of them myself. That's the glory of the Internet; we don't all need to work in the same room in order to have opinions about television. Here are our critics in alphabetical order, presenting their Best Shows. Remember, there's no accounting for taste, though keep in mind our taste is excellent. Trust us, we're professionals.
The Man in The High Castle. Watching this show is a soothing escape from the hellscape of Trump's America into a world where the Nazis won World War II.
The Mandalorian. The breakout star of this particular Star War is small, feisty, and adorable. And along with Werner Herzog, there's also a small Yoda kid, if you're into that sort of thing.
The Boys. I liked the show's first few episodes well enough when I reviewed it, and then it got really, really good. It's smart, funny, and violent as hell.
Watchmen. At this point the only person who doesn't think this show is way better than it has any right to be is Alan Moore.
The Good Place. The funniest show on TV is also the sweetest, the wisest AND it's the twistiest genre show since Lost. I'm going to cry during the entire series finale, aren't I?
Charmed. I wasn't sure how the second season was going to work after they essentially blew up the entire hierarchy of the show, but I loved where they went. The Safe Space Seattle conundrum has been interesting, entertaining, and, at times, hilarious. I worry a little bit that they're doing too much too fast, but I still love to watch.
Nancy Drew. This show is such a spooky good time. It's dark but still has quirky moments and Nancy is still at her core a meddling do-gooder, but the show has set up a huge, multi-layered mystery and done it really well. I'm excited to keep watching.
Roswell, New Mexico.  Liz Ortecho is my favorite new character on television. She's hot, badass, smart, and funny. I never once watched the original series but this one has hot bisexual aliens, what more do you need?
The Society. Season one brought up so many questions, but one constant remained: white people will create improv classes anywhere, even a completely deserted society. It was really interesting to see teenagers grappling with creating their own world, and there were some truly fantastic character arcs throughout the season, like how Kelly went from shy popular girl to birthing badass.
Single Parents. Season one of the sitcom was truly excellent, and season 2 is still a lot of fun. The Lance Bass Space Camp episode is one of the funniest things I've seen on a network sitcom for a minute. The cast has nice chemistry and they manage to showcase stories about parenting and also Adam Brody is there sometimes.
Fleabag. It's bittersweet to know we're not likely to get another season of Phoebe Waller-Bridge's masterpiece. But the ultimately very necessary second season was profound, hilarious, and the perfect sitcom swan song.
Watchmen. HBO's not-really-an-adaptation of the essential graphic novel surpassed all expectations, proving that Damon Lindeloff's masterful The Leftovers wasn't a fluke. An intense, weird, and satisfying examination of race relations and memory that demands a second viewing.
Russian Doll. Speaking of exceeding expectations, Natasha Lyonne's spectacular comeback vehicle transformed itself from a high-concept, raunchy comedy into an intensely moving essay on human kindness. Transformative.
Chernobyl. A well-timed miniseries doubling as a tragic human drama about an all-but-forgotten disaster and a treatise on the danger of institutional lying. Grounded performances and excellent writing made the unwatchable completely compelling.
Los Espookys.
Perhaps HBO's weirdest comedy ever, this Spanish-language show about horror fans making special effects in a fictional Latin American-country was a deadpan delight. In only six episodes,a whole realm of magical realism was built around strong writing and excellent performances.
The Mandalorian. Star Wars fans have, for decades now, been crying out for a live action television series set in a galaxy far, far away, and with The Mandalorian, our prayers have been handsomely answered. Jon Favreau and company took a challenge that carried insane expectations and knocked it out of the universe, gifting us a space spaghetti western that's everything we love about Star Wars and little that we hate. Bye bye, Jar Jar, hello Baby Yoda!
Dark Crystal: Age of Resistance. Joke as we might about how Netflix will produce pretty much any script thrown at them, it finally put its deep pockets to use by making (checks notes)…an elaborate puppet fantasy series? Yes. And it's brilliant, every bit as transfixing and terrifying as the original Dark Crystal film, taking the entrancing Land of Thra to places that would make even George R.R. Martin jealous.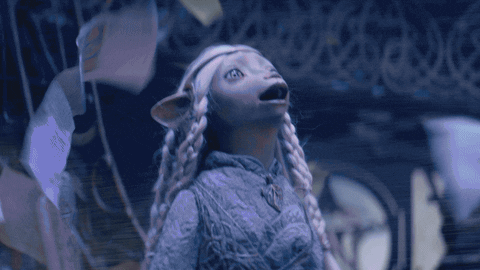 Watchmen. Okay, so it might be too smart for its own good, but the HBO Watchmen series does for the trailblazing graphic novel what the Zack Snyder film ultimately couldn't. Not only does Watchmen capture and deepen the original narrative thirty years later, it adds dimension and character depth equal or better than the source material, with clever plot twists lurking around every corner, and a powerful, unsettling depiction of race in America that you simply can't shake.
Barry. Never have Bill Hader's myriad talents been put to use quite as well as with this series, which truly came into its own this season. The "Ronnie/Lilly" episode alone was a surreal, violent masterpiece of thirty minute television. I don't know if Barry will ever top that, but you can count on me continuing to tune in religiously to find out.
Unbelievable. Two things happened when I watched Unbelievable, the true tale of a teenage rape victim who's victimized a second time by the detectives who refuse to accept her story and even blame her for lying about it: I was profoundly infuriated, and I simply couldn't stop watching. Of all the shows I watched in 2019, this was the one that grabbed every molecule of my attention, and didn't let go for days afterwards. Unbelievable is literally unforgettable.
Big Mouth. I didn't like the third season of this filthy Nick Kroll-created cartoon about the terrors of puberty as much as the first two, but since I binged all three seasons in about six weeks this fall, I'm putting it on the list. No show has made me laugh this much in a long time, and nearly every episode features a terrific dirty song. The Florida episode in Season 3 is an all-time animated classic.
Succession. The juiciest depiction of the super-rich since Dallas and Dynasty, but 1000 times more realistic and way nastier, Succession gets to the heart of the media business like no other show ever. Compulsively watchable, deliciously nasty, full of sex and drugs, it even contains some good business tips if you're paying attention.
Mindhunter. The second season didn't quite live up to the first season. There was too much with Bill's creepy kid, and the lesbian love subplot fell a little flat. But the Atlanta child murder case played out with maximum suspense, and the in-prison serial-killer interviews remain a master class in gripping one-take television.
The Boys.  This show isn't as "quality" as Watchmen, and it's not as "important," but it's a lot more fun, way funnier, and way sexier. The Boys is trash, Watchmen is recycling.
BH90210. Remember when TV was dumb and fun and smart people didn't write about it? I do! Beverly Hills 90210 came back this summer with a super-retro and highly-self-aware take on itself that never stopped entertaining me for one second. Was it quality? Who knows? Probably not. It was a dumb show about dumb actors doing dumb things. For a little while, it was nice to have TV back.